How Do I Eliminate my Clutter?
How do I eliminate clutter – this is a question that I am often asked by families who just have too much stuff and don't know where to start.
You may hear a lot of different options when it comes to eliminating clutter and this is what I know to be true…."Nothing will happen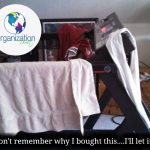 So how do I eliminate my clutter?
FIRST – Understand your why. Why do you need to declutter? For most it is because you are running out of room in your home.
SECOND – Stop avoiding the situation. This ensures that you Don't succeed and that you won't eliminate the clutter
THIRD – Stop shopping! Stay away from the sales and "must have" items. This can be particularly difficult at this time of year when all of the holiday sales have arrived. Avoid impulsive buying – save money and buy only what is needed.
FOURTH – Start now! There isn't a better time to start your declutter process than now. No more excuses – no more procrastination.
FIFTH – If you can't seem to figure out Steps 1-4, give us a call. We don't have to be there "hands-on" to help you organize! With Skype, Zoom and so many other technology tools, we can help you walk through the process and hold you accountable for your success.
I challenge you to first to recognize your Why and then get started with organizing your home, office, garage – whatever area needs attention.
To Your Success!
Linda Clevenger