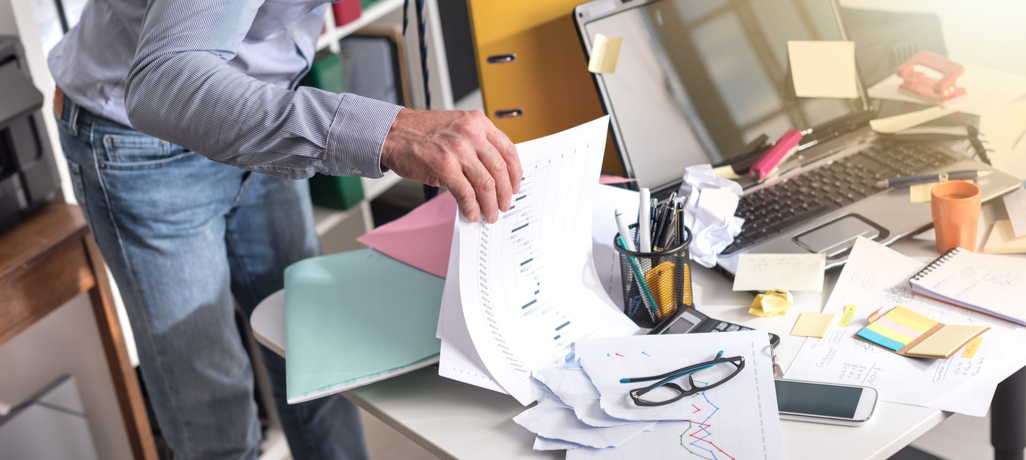 5 Habits of Disorganization That You Need to Break
Disorganization can have disastrous consequences in business and within our personal lives. Clutter can cause us to miss dates, forget groceries, lose documents, and overlook the important moments of our lives. But don't agonize! Get organized with Organization Direct! And the very first place to start is by breaking these five disorganization habits.
1. Lacking a Plan:  Step one to becoming organized is developing a plan. We recommend creating a list each night of goals for the next day. Instead of mishandling information in our minds, write it down! This way you free up your mind for other tasks that need your immediate attention. One of our first tasks at Organization Direct is to help you develop a plan for finding solutions that suit your needs whether your are at home or at work.
2. Misplacing your Priorities: When creating a list or plan, place tasks into "must do," "should do," and "can-do" categories. Always tackle the must-dos first. Now, you'll be less likely to procrastinate on your big deadlines with small chores. Choosing between meeting with your supervisor, making dinner reservations, and returning your friend's call can have huge repercussions on your productivity.
3. Indulging in Distractions: Disorganized people constantly check their phones at work, leave social media tabs open, and get lost in conversation during working hours. Managing these habits is easy by eliminating the temptations behind distractions. Close unnecessary tabs, or even better, download computer software that helps organize your time at work by blocking websites like Facebook and Twitter. Some smartphones even have focus modes available.
4. Mismanaging Your Inbox: When our inboxes become cluttered with countless newsletters and social media alerts, we risk overlooking the important emails in our inbox. Unsubscribe from as many newsletters as possible and turn off email notifications for social media accounts. Additionally, manage your inbox by scheduling three blocks of 20-30 minutes to check your email daily and take care of problems immediately. Once you've attended to an email, archive or delete it.
5. Scattering your Belongings: "When I see everything at once, I find it faster." We have heard this excuse many times and, frankly, it just isn't true. Leaving belongings strewn across your home or workspace will make you waste time as you are looking for materials. 
Breaking these habits is a good step towards living a more organized life. And if you find organization too overwhelming, we are happy to help! Together we can find the perfect solution for your needs. Contact us today and take control of your clutter.