2 Garages in 2 Days
Organizing 2 Garages in 2 Days is a lot of work!
This is why our families hire us. They are tired and don't feel like dealing with their clutter!  We take care of that for you.
So what is your idea of an organized garage? For these 2 garage clients it was a very different process.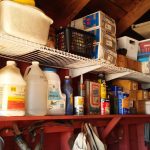 One family, an electrician, needed all of his plumbing, electrical, HVAC, tools, (and a ton of other categories) to be organized so that he could find them when he needed them. Too much money was flying out the window because items were being bought that were in the garage (somewhere). I wish that you could have heard the excitement in his voice when he found his Condensers! He/we found tools make his job easier. He/we were able to sort and identify 4 different type of breakers. I am not joking when I say that this ADD electrician is able to find everything that he needs within just a minute. And, while it isn't "pretty", it is functional and practical and this is what matters most.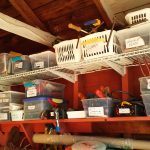 Our other family was a military family who moved to the area and never unpacked their stuff! They took it from a storage unit and put it into their garage and hadn't touched it in years!
We spent 8 hours (4 people) going through about 80% of everything in the garage. Everything was pulled out and sorted. It was then identified whether everything in the garage would stay or be donated. Once the decisions were made, the donations were sorted into two categories…those that would go to MANARC and those that would go to VetTrack.org (both local non-profits who support our Veterans).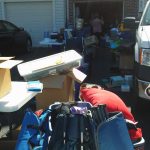 This family donated and eliminated so much of their stuff that we had to go back on Sunday afternoon with our trailer to haul it away!
And while there are still about 12 bins of holiday items to go through, we made a massive dent in the transition of this garage organization. The family can walk in and out of the door to the home. They can open the garage without things falling out of it. They can find exactly what they need in the garage. And, here is the best part!  They can continue to organize their home because they now have a ton of room to get organized.
What I loved about this weekend is the smiling faces and excitement with both couples. It was as if had won the lottery. One comment was, "You changed my life, I can't thank you enough".  "This is amazing! It feels SO good".
I love working with my families to help them reach their goals and dreams. And, this is the burning question that I always am asked…yes, they do keep their space organized.
If you would like information about how we can help you and your family get organized, just give us a call at 540-220-5912 or email linda@organizationdirect.com